Recipes
Published on October 1st, 2014 | by Tania Melkonian
0
Apples in the Kitchen
Apple Pie Smoothie (Empire, Golden Delicious)
Yields 2 large smoothies
1 cup unsweetened almond milk
1 cup unsweetened applesauce or stewed apples
½ cup raw, unsalted cashews, soaked in water for 1 hour
2 tsp vanilla extract
½ tsp ground cinnamon
2 chopped, pitted dates, soaked in water for ½ hour or 2 Tbsp maple syrup
(use dates if using a high-speed blender, otherwise use maple syrup)
1 cup ice cubes
Place all ingredients in a blender and purée until smooth, 30 to 60 seconds.
Courtesy of Elise Bauer, SimplyRecipes.com
---
Creamy Curried Apple Soup (Gala, Jonagold)
Yields 6 large servings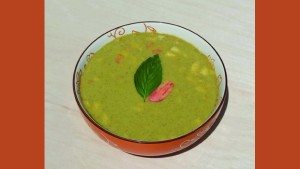 2 Tbsp mild curry spice mix
1 Tbsp olive or coconut oil
1 medium onion, diced
1 head broccoli, stems peeled and separated from florets, all chopped roughly
2 medium apples, cored and chopped*
3 cups vegetable or chicken stock
3/4 cup unfiltered apple juice
¼ cup apple cider vinegar
1 sprig Thai basil for garnish
*During preparation, keep apples in a large bowl of ice water with one Tbsp of vinegar or lemon juice to prevent browning.
Heat a large pot on medium heat. When pot is warm, add spice mix until aroma is released. Add oil and stir for a minute.
Add onions and half of the apples, stirring the mixture until onions and apples soften. Add broccoli, stock and juice. Stir and reduce heat. Cover and cook on low for 20 to 25 minutes.
Remove from heat and use a blender to purée the soup in batches. Return to pot; add vinegar and the rest of apples. Stir and heat gently before serving.
This soup can be kept in the refrigerator for up to seven days or the puréed soup can be frozen for several months. Defrost and add diced, raw apples before heating and serving.
Courtesy of Tania Melkonian, EATomology.com
---
Apple-Cheddar Brunch Soufflé (Granny Smith, Honeycrisp)
Yields 8 servings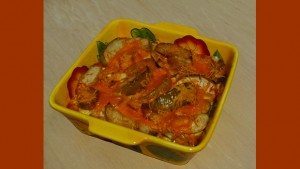 3 slices gluten-free or sprouted grain bread, torn into 1-in pieces
6 eggs
1 cup milk (flax, coconut, almond or goat)
1 tsp black pepper
1 tsp nutmeg
4 Tbsp grass-fed butter
3 large sage leaves
6 apples, cored and sliced into wedges (about 8 per apple)
1 cup grated goat's milk cheddar cheese
Arrange bread on a baking sheet. Toast until light brown. Set aside.
Preheat oven to 350° F.
Whisk eggs, milk and spices together until some small bubbles form on surface.
Heat a skillet on medium heat. Melt 3 Tbsp of butter and drop in sage leaves. Allow butter to bubble, not burn.
Drop apple wedges in and stir, cooking for 2 to 3 minutes until apples are slightly soft. Remove apple mixture from heat. Remove sage leaves.
Use 1 Tbsp butter to grease a 9-inch springform pan, deep baking dish or Dutch oven. Arrange 1/3  of bread in a layer on the bottom. Sprinkle ¼ of grated cheese on top. Spoon 1/3  of apple mixture on top. Repeat twice. Pour egg mixture on top.
Bake on middle rack for 30 minutes. Sprinkle remaining cheese on top. Bake for an additional 15 minutes.
Courtesy of Tania Melkonian, EATomology.com
---
Grilled Apple-Fennel Napoleons (Gala, Macintosh, Fuji)
Yields 6 servings
1 large red or sweet onion
4 large apples, cored
2 medium fennel bulbs
½ cup olive oil divided into two ¼-cup portions
½ tsp salt
½ tsp anise seed, ground
1 tsp balsamic vinegar
¼ cup fresh tarragon leaves, finely chopped
Juice of a tangerine or clementine
Peel onion and, removing root, cut into 6 rings about ¼-inch thick. Cut apple into 12 rings of similar thickness. Cut fennel bulbs width-wise to make 12 to 15 smaller rings.
Combine ¼ cup oil, seasonings and vinegar in a bowl. Arrange onion, apple and fennel rings on a large baking dish or platter. Pour oil mixture on top, coating the surface of each ring. Turn rings over. Coat the other side.
Heat a grill pan, grill top or outdoor barbecue to medium-high heat. When removing rings from the oil mixture, allow any excess to drip into a platter.
Grill onions, apples and fennel in batches, ensuring grill surface is not crowded. Cook each ring for about 2 to 4 minutes per side allowing grill lines to develop and product to remain al dente (soft on the surface, but crunchy in the middle). While rings are cooking, mix ¼ cup oil, tangerine juice and tarragon leaves in a blender.
After all rings are grilled, arrange 1 Napoleon per plate with onion ring at the bottom. Stack one apple ring on top of that and 2 or 3 fennel rings. Repeat with apple and fennel, ending with fennel on top. Evenly distribute tarragon dressing on each of the Napoleons. Serve immediately.
Courtesy of Tania Melkonian, EATomology.com
---
Grated Apple-Radish Salad with 'Smoked Caramel' Dressing (Red Delicious)
Yields 6 servings
Dressing Ingredients:
3 Tbsp organic tamari soy sauce
1 tsp smoked paprika (pimentón)
5 Tbsp sesame oil
2 tsp maple syrup
Whisk ingredients together until combined.
Salad Ingredients:
1 cup cooked red quinoa
2 cups grated apple
Grated radish (daikon or red work well)
1 cup chopped chives
1 cup toasted pine nuts (optional)
Combine ingredients together until incorporated. Add dressing just before serving and mix to combine.
Courtesy of Tania Melkonian, EATomology.com