Conscious Eating Published on July 31st, 2019 | by Jose
0
Simply Wild: Forage Recipes

Buttered Cattail Shoots With Peas and Mint
Yields: 4 servings
This is a riff on the traditional English springtime dish of lettuce wilted in butter with peas and mint. The pleasingly mild flavor of the cattail shoots stands in for the lettuce. Stick with just the whitest parts of the shoots for pure tenderness or include some of the pale green bits if you want a sturdier dish.
2 Tbsp unsalted butter
3 cups cattail shoots, chopped
½ cup water
1 cup fresh or frozen shelled peas (if frozen, defrost them first)
2 Tbsp fresh mint, minced
Salt and freshly ground black pepper
Melt the butter in a pot over medium heat. When the butter has melted, add the cattail shoots and water. Bring to a boil over high heat, then reduce the heat to low and cook, stirring often, until the cattail shoots are tender and most of the water has evaporated.
Add the peas and cook for 2 minutes more, stirring.
Remove from the heat and stir in the mint with salt and freshly ground black pepper to taste. Serve warm.
Garlic Mustard Pesto on Crisp-Creamy Polenta
Yields: 4 servings
Leda Meredith, author of The Forager's Feast: How to Identify, Gather, and Prepare Wild Edibles, says, "Wild food aficionados may roll their eyes when they see that I'm including this recipe because pesto is used as the go-to recipe for this plant so often that it's become a cliché. But there's a reason for that: it's really, really good.
"You can toss garlic mustard pesto with pasta, of course, but a spoonful added to soup just before serving is also wonderful, as is a smear of it on focaccia or toast. My favorite way to enjoy garlic mustard pesto is on pan-fried polenta that is crispy on the outside and creamy within."
2 cups fresh garlic mustard leaves and tender stems
3 Tbsp walnuts or pine nuts, chopped
1 tsp garlic, minced (wild or cultivated)
¼ cup Parmesan or Romano cheese, grated
½ cup plus 2 Tbsp extra-virgin olive oil,divided
2 Tbsp butter
8 slices (½-inch-thick) cooked polenta
Put the garlic mustard leaves, nuts and garlic into the blender or food processor. Pulse until the leaves are chopped.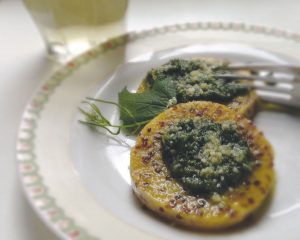 Add the cheese. With the motor running, add ½ cup of oil a little at a time until the mixture is well blended, but not completely smooth. (You want a bit of texture from the nuts and greens to remain.)
Heat the butter and 2 tablespoons oil in a large nonstick pan over medium-high heat. Add the polenta slices. (You can use the precooked polenta that comes out of a tube, or if you cooked some from scratch, spread it out ½-inch thick on a baking sheet and refrigerate until sliceable.)
Don't try to move the polenta slices until they've browned on the bottom side. You'll know that's happened when they dislodge easily. Use a spatula to flip them over and brown the other side.
Plate two slices per person, with the garlic mustard pesto spread on top. Serve hot or at room temperature.
Tip: If you want to keep this pesto in the refrigerator for up to a week or in the freezer for up to six months, blanch the garlic mustard greens in boiling water for 20 seconds, then immediately run them under cold water or dip them in an ice bath. Squeeze out as much water as you can, then proceed with the recipe. This blanching step prevents the pesto from losing its bright green color and turning brown in cold storage.
Simple Supper Garlic Mustard Pasta
Yields: 4 servings
This is a simple, but satisfying one-pot meal that comes together in about 20 minutes total. You can embellish the recipe with additional ingredients such as chorizo sausage or pine nuts, but it's really not necessary. Sometimes simple is best.
1 lb penne pasta
1 lb garlic mustard leaves and shoots, washed and coarsely chopped (ideally, you're using garlic mustard at the stage where the stems are still tender and the flowers are either budding or just starting to open)
4 garlic cloves, peeled
1 to 2 medium-hot red chili peppers (pepperoncini), stems and seeds removed
¼ cup plus 1 Tbsp extra-virgin olive oil, divided (use your best as this is one of the main flavors of the sauce)
Salt to taste
½ cup Parmesan or Romano cheese, freshly grated (again, use the best you've got)
Freshly ground black pepper
Bring a large pot of water to a boil. Add the penne and set a timer for seven minutes.
While the pasta is cooking, prep the other ingredients: wash and chop the garlic mustard, mince the garlic or put it through a garlic press, chop the chili peppers.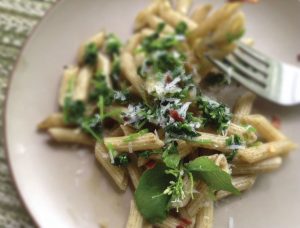 After seven minutes, add the garlic mustard to the pasta in the pot and cook until the pasta is al dente, usually about five minutes more.
Scoop out a ladleful of the pasta cooking water and set it aside. Drain the pasta and garlic mustard in a colander. Return the pot to the stove over low heat.
Add 1 tablespoon of the olive oil to the pot along with the garlic and chili pepper. Cook, stirring constantly, for 1 minute. Return the reserved pasta cooking water and the drained pasta and garlic mustard greens back to the pot. Raise the heat to medium and cook, stirring, for a minute or two until the liquid is mostly evaporated or absorbed. Remove from the heat, then stir in the remaining olive oil and salt. (Go scant on the salt because the grated cheese you'll be adding is salty.)
Serve hot with freshly grated cheese and freshly ground pepper.
Other wild edibles you can use in this recipe include any leafy greens, as well as the leaves of any wild garlic species.
Recipes and photos from The Forager's Feast: How to Identify, Gather, and Prepare Wild Edibles. Reproduced by permission of The Countryman Press. All rights reserved.